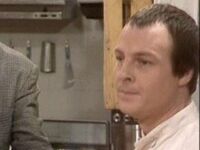 Terry, played by Brian Hall, is the laid-back Cockney chef at Fawlty Towers.
Terry's cooking methods are somewhat casual, which frustrates and worries the neurotic Basil. He appears in only the second series of episodes. Terry used to work in Dorchester (not at The Dorchester, as believed by a guest).
In "The Anniversary" Terry and Manuel come to blows since he doesn't like anyone else cooking in his kitchen, and proceeds to sabotage the paella Manuel is making for Sybil, leading to fisticuffs at the end of the episode.