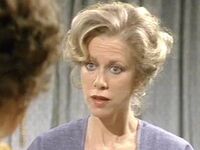 Polly Sherman is a fictional character in the BBC sitcom Fawlty Towers. Played by Connie Booth, she is Fawlty Towers' long-suffering waitress and maid. She is an artist on the side. She is shown to be more level-headed than her boss, manager and owner Basil Fawlty and is often asked to do tasks, such as helping run the hotel when Basil is injured and at one point dress up as Sybil, that aren't included in her job description.
Connie Booth is also a co-writer for the show, alongside John Cleese.
Ad blocker interference detected!
Wikia is a free-to-use site that makes money from advertising. We have a modified experience for viewers using ad blockers

Wikia is not accessible if you've made further modifications. Remove the custom ad blocker rule(s) and the page will load as expected.