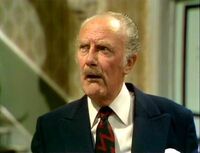 Major Gowen, played by Ballard Berkeley, is a slightly senile, amiable retired old soldier who is a permanent resident at the hotel.
He is one of the few guests whom Basil seems to like. This is because of his former military status, making him a symbol of the establishment status that Basil craves. He is often introduced as their "oldest resident", however Miss Tibbs at one point refers to herself and Miss Gatsby as the "oldest residents". He enjoys talking about the world outside, especially the cricket scores and workers' strikes, and is always on the lookout for the newspaper.
He was portrayed as slightly forgetful, and both sexist and racist to varying degrees, the latter parts causing part of the episode 'The Germans' to be cut out when the episode was aired in early 2013, the line that was cut was "Oh no Elsie, these people aren't niggers, that's the West Indians. These people (from India) are wogs." words that are considered highly offensive to today's modern audience.
At times, his attitude takes over as when he sees a rat in the bar and attempts to shoot it with his shotgun. Or when he remarks how every German needs to be wiped off the face of the Earth.