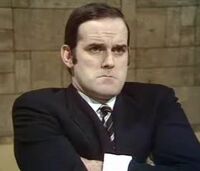 John Marwood Cleese (born 27 October 1939) is an English actor, comedian, writer, and film producer.
He achieved success at the Edinburgh Festival Fringe and as a scriptwriter and performer on The Frost Report. In the late 1960s he became a member of Monty Python, the comedy troupe responsible for the sketch show Monty Python's Flying Circus and the four Monty Python films: And Now for Something Completely Different, Holy Grail, Life of Brian, and The Meaning of Life.
In the mid 1970s, Cleese and his first wife, Connie Booth, co-wrote and starred in the British sitcom Fawlty Towers. In the show Cleese played Basil Fawlty.
External Links
Edit
Ad blocker interference detected!
Wikia is a free-to-use site that makes money from advertising. We have a modified experience for viewers using ad blockers

Wikia is not accessible if you've made further modifications. Remove the custom ad blocker rule(s) and the page will load as expected.