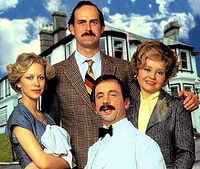 Fawlty Towers is a British sitcom produced by BBC Television and first broadcast on BBC2 in September 1975. Twelve television program episodes were produced (two series each of six episodes).
The show was written by John Cleese and his then wife Connie Booth, both of whom played major characters. The first series in 1975 was produced and directed by John Howard Davies; the second in 1979 was produced by Douglas Argent and directed by Bob Spiers.
Inspired by the rude behaviour of the proprietor of a hotel in the seaside town of Torquay, on the "English Riviera", the show follows Basil Fawlty (Cleese) in his running of the fictional Fawlty Towers hotel in the same area.
The series focuses on the exploits and misadventures of short-fused hotelier Basil Fawlty, his wife Sybil and their employees, porter and waiter Manuel, maid Polly, and (in the second series) chef Terry. The episodes typically revolve around Basil's efforts to succeed in 'raising the tone' of his hotel and his increasing frustration at the numerous complications and mistakes, both his own and those of others, which prevent him from doing so.
Much of the humour comes from Basil's overly aggressive manner, engaging in angry but witty arguments with guests, staff and in particular his formidable wife, whom he addresses (in a faux-romantic way) with insults such as "that golfing puff adder", "my little piranha fish" and "my little nest of vipers". Despite this, he frequently feels intimidated, she being able to stop him in his tracks at any time, usually with a short, sharp cry of "Basil!" At the end of some episodes, Basil succeeds in annoying (or at least bemusing) the guests and frequently gets his comeuppance.
Characters
Edit
Main Article: characters
Main Cast
Episodes
Edit
Main Article: Episode Guide
See Also
Edit