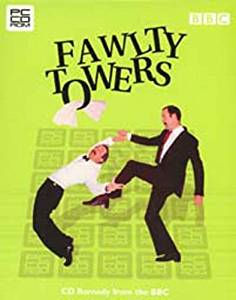 Fawlty Towers: Comedy Pack is a piece of Fawlty Towers merchandise which was released by BBC Multimedia. It was designed to work on Windows 95, Windows 98 and was released on 2 Dec. 2000.
Manufacturer's Description
Edit
Includes a number of games and Basil Fawlty's version of hotel management, helpful tips on motivating staff and keeping customers satisfied! Also a selection of screensavers, wallpaper, cursors, icons and sounds.
Only 12 episodes of this sitcom were ever made, but it has became a national institution, perhaps repeated more often than anything else on British TV. Now the BBC has capitalised this success with this Fawlty Towers CD-ROM which opens with a view of the famous entrance hall, with Basil standing behind the desk. Click around and you find various things to do. There is a desktop customiser you can use to add Fawlty-style cursors, icons wallpaper and screen savers. There is also a selection of video clips which are welcome enough, but real fans will probably already have the complete library of episodes on tape.
For light relief you can play three games. In "Got A Room Mate?" You have to shuffle guests around into appropriate rooms. "Come on, Pack Your Bags and Get Out" sees you driving round Torquay picking up guests who have gone to find other hotels. The "Manager's Fawlty" is a board-style game in which your ultimate quest as Basil is to eat your toast in peace--but there are tasks to perform first. The game is peppered with sound clips and mini-games to keep you entertained.
Fans of Fawlty Towers who simply can't get enough might find this CD an important addition to their Fawltyabilia collection--but you do need to be hooked to fully appreciate this CD-ROM. --Sandra Vogel
Ad blocker interference detected!
Wikia is a free-to-use site that makes money from advertising. We have a modified experience for viewers using ad blockers

Wikia is not accessible if you've made further modifications. Remove the custom ad blocker rule(s) and the page will load as expected.