Number 16, Bourne's End, Buckinghamshire, England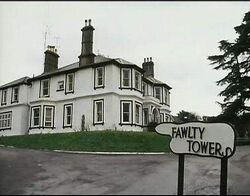 Fawlty Towers is a hotel run by Basil Fawlty and his wife, Sybil.
Gourmet Night Edit
The Hotel hosts a 'Gourmet Night' every Thursday Evening.
The Dress Code for the event is 'Formal'.
A Special Chef Gourmet Chef (Kurt) is hired for this Event.
Bedrooms Edit
26 Bedrooms (1 Double Bed)
'12 with Private Bathrooms'
Known Staff Edit