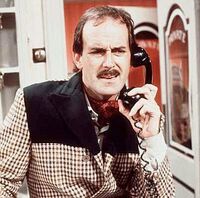 Basil Fawlty, played by John Cleese, is a snobbish and miserly misanthrope who is desperate to belong to a higher social class. He sees a successful hotel as a means of achieving this ("turn it into an establishment of class...") yet his job forces him to be pleasant to people he despises.
He owns the Fawlty Towers Hotel which he runs with his wife and various members of staff. He has a hate hate relationship with the majority of the guests who stay at the hotel, often being annoyed by their requests and habits. He is shown to be quick to anger and be annoyed, especially since mistakes and bad luck run rampant. He claims to speak fluent Classical Spanish however as one of his workers, Manuel, who is Spanish cannot understand him properly when Basil speaks Spanish it could indicate that Basil isn't very good.
Ad blocker interference detected!
Wikia is a free-to-use site that makes money from advertising. We have a modified experience for viewers using ad blockers

Wikia is not accessible if you've made further modifications. Remove the custom ad blocker rule(s) and the page will load as expected.